Grab yourselves a cup of coffee!
Good time-zone readers. Now then the origin of this greeting, at the very least the place I first found someone who used it, was on discord. I use it here as it respects users all over the world, no matter what time of day it is. Anyways grab yourselves a cup of coffee or whatever drink you prefer and enjoy.
My opinion on Stardock Windowblinds 11
So a few months ago I purchased a program called WindowBlinds 11. This program allows users to skin the Windows UI to their liking. I personally don't like being forced to buy a program due to no alternatives being available. Other than that the program works as expected, mostly. Other apps with custom UI skins like Vivaldi, Chrome and Edge are not affected by the customizations applied by WindowBlinds 11. Safe to say the program in my opinion was a good investment.
How to reproduce my custom Windows 11 UI
So if you are a windows user and want your desktop UI to look similar to the mac desktop UI, I have some good news for you. It is completely possible with the use of tools that can be found on Github. See image below for finished product.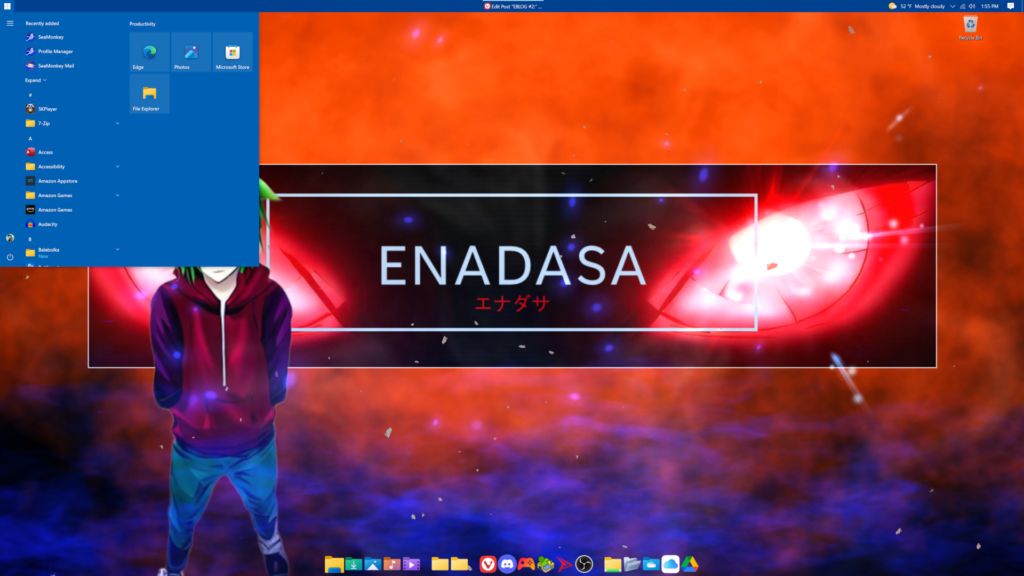 The dock:
The most important part of this setup is a program called Rocket Dock. As you can see I have a transparent dock on the bottom of my screen. The program comes with numerous dock backgrounds, although it is totally possible to make your own themes for it.
The start menu and taskbar:
As you probably can see I am using the windows 10 start menu. This was achieved through a tool from Github called Explorer Patcher. The windows 10 taskbar and centering the window list was also achieved through this method.
Extras:
For my active wallpaper I used wallpaper engine.
You have come to the end of this post
If you've made it this far, congratulations. Thank you for reading. I will be posting again another time. Bye!